Join Our Atlanta Massage Therapy
Certification Program
When you are ready to take the next step on your career path, we require that you take a tour of our school to meet our directors and learn more about massage therapy certification in metro Atlanta. You can submit a complete application with a non-refundable $75 fee. Applications are available by contacting the admissions department at 678-482-1100.
You must also submit your official high school/college/GED transcripts or a copy of your diploma along with your application. In addition, our massage therapy programs require a medical release form indicating that you are free of disease communicable through ethical touch and physically capable of giving and receiving massage therapy. If you have any questions about the application process or the required documentation, please contact us. You can also learn more about our admission policies here.
What to Expect After Submitting Your Application
After all your admission files are submitted, we will review them and consider you for acceptance. You will be notified in writing of any admissions decision. Please note that completing your application does not automatically guarantee acceptance into our massage therapy programs. Applications remain active for one year after submission. If you have any further questions about becoming a massage therapist after receiving your admissions decision, contact us.
COVID-19 Notice
Any person entering the premises waives all civil liability against this premises owner and operator for any injuries caused by the inherent risk associated with contracting COVID-19 at public gatherings, except for gross negligence, willful and wanton misconduct, reckless infliction of harm, or intentional infliction of harm, by the individual or entity of the premises.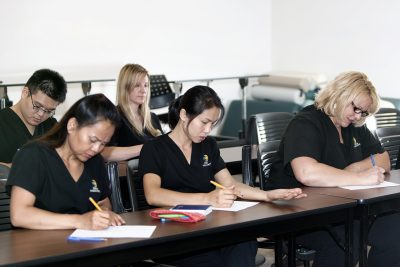 Classes Starting Soon
Day: January 8, 2024
Contact the admissions department for next evening class start.