ABOUT GEORGIA MASSAGE SCHOOL
Georgia Massage School was founded by lifetime educator Laurie Craig, recipient of the 2007 American Massage Therapy Association National Teacher of the Year and the 2011 American Massage Conference National Educator of the Year awards. With more than 30 years of experience engaging with massage therapy students, Georgia Massage School was able to create a custom-designed massage training program, perfect for adult learners. Georgia Massage School is approved by the Georgia Nonpublic Postsecondary Education Commission, NCBTMB and the Georgia Board of Massage Therapy. The massage therapy program at Georgia Massage School is approved for Veterans Education Benefits.
Experience Daily Contact with the School Owners
As the primary teachers at our massage school, Laurie Craig and Carrie Corey make themselves available to their students to ensure that any questions or concerns can be answered quickly and to a satisfactory degree. These experienced teachers help to ensure that you receive premium value for your education investment at our high-quality Atlanta-area campus facility. Contact us today to learn more about our staff and find out why they are the right choice to teach you.
Our Faculty
Laurie Craig, BS, MS

Owner/Director
Laurie received both her B.S. and M.S. in biology from the University of South Carolina. She has taught life sciences to allied health students in the fields of nursing, dental hygiene, chiropractic, and massage therapy. She served on the Exam Development Committee for the Federation of State Massage Therapy Boards (FSMTB) and continues to serve as subject matter expert and test-item writer.
Laurie is an award-winning, nationally recognized educator. She was the 2007 recipient of the American Massage Therapy Association's National Teacher of the Year, and in 2011, she was awarded the National Educator of the Year by the American Massage Conference.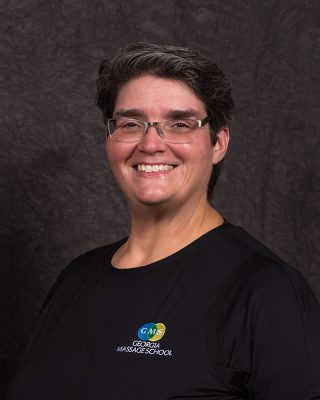 Carrie B. Corey, MS, LMT, LAc, ATC

Owner/Director
Carrie attended Ithaca College, where she received a B.S. in psychology and a minor in athletic training. She then received her M.S. in athletic training from Ohio University. Carrie launched her career as an athletic trainer in a New England boarding school. It was here that her interest in hands-on medicine led her to pursue further training in massage at a school in Atlanta, where she taught massage for the next 6 years. Her exposure to Eastern healing traditions seemed to be the missing link in her understanding of the body and prompted her to pursue a Classical Acupuncture Master's Program. In 2007, she moved to Bethesda, MD, where as a Licensed Massage Therapist and Acupuncturist, she served as the spa director for Kenwood Golf and Country Club.
Carrie has returned to Georgia to teach massage therapy again as a Licensed Massage Therapist in Georgia (MT012583), a Certified Athletic Trainer, and Licensed Acupuncturist.